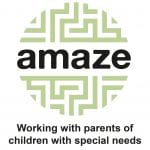 Here at SCMT we received this lovely letter from 'amaze' the charity we have been raising money for throughout the SCMT Youth Music Festival… it's so good to see what great things the money will be used for!
'Dear Susanna, teachers, parents and pupils,
Please accept this letter as a sincere thank you for the generous donation of £520 for Amaze from the SCMT Youth Music Festival.
As you know, Amaze gives information, advice and support to parents of children with special needs and disabilities in Brighton and Hove. We work to empower parents to expect and get the best for their children. We support families through the emotional and practical demands of getting the right services in finance, education, health care and leisure.
The Amaze Helpline (01273 772289) is often the first point of call when a child is diagnosed with a special need, and is the front door to other Amaze services and impartial information. We deal with over 3000 telephone enquiries a year from parent carers and professionals and demand is increasing. In fact, numbers have nearly doubled over the last two years. This service is continually overstretched and underfunded.
Parents really value the helpline, for many of them it has been life changing. It gives them up to date information, practical advice and often more importantly a listening ear. The recent evaluation showed that parent satisfaction levels were over 93%. Here is a link to more information about the helpline and opening hours https://amazebrighton.org.uk/services-and-support/amaze-services/helpline/
Your donation is truly appreciated and will help us to continue to keep the Amaze Helpline running.'