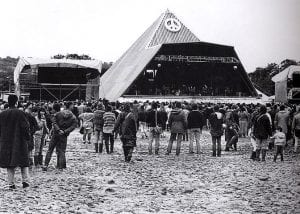 As you may know this month SCMT are featuring Glastonbury festival. Our last blog saw the start of the festival in the 1970s… but it really started to grow in the 1908s…
During the 80s the iconic Pyramid Stage (pictured) was rebuilt (and used as a cow shed during the rest of the year!)
The attendance went from 18,000 in 1981 to a whopping in 65,000 in 1989 and the ticket price went up from £8 to £28.
1981 was the first "Campaign for Nuclear Disarmament" festival and throughout the 80s the festival made thousands of pounds for this charity.
1982 saw the first laser show… something that features heavily in today's festival.
Throughout the 80s the organisers encountered many problems with the licensing and authorities but it managed to conquer all obstacles and continue to run!
Acts included: Elvis Costello, Van Morrison, New Order, The Cure, Madness, Simply Red, Joe Cocker, The Beat, UB40 and Curtis Mayfield.
Source: https://www.glastonburyfestivals.co.uk/history/