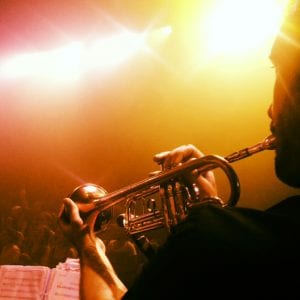 Today's featured new tutor is the brilliant Matt. Matt teaches trumpet and a range of genres. The trumpet is a great instrument to learn, there are so many different styles of music you can play. Below you can find Matt's teaching profile, here you can find out about his teaching styles, influences, experiences and much more. Matt is ready and waiting to take on new students, so please contact Susanna direct on 01273 504505/07720 771053 or email [email protected] to book your free into lesson.
Profile:
Matt has a passion for performing music of many genres. He has a background in classical music, completing his grades and performing with such ensembles as the National Children's Wind Orchestra before enrolling on the renowned Middlesex University jazz course.  He has spent the last five years as a peripatetic brass teacher for the West Sussex Music Service, teaching a broad level of standards and interests. He also teaches in several private schools.
He prides himself on being a diverse musician and is out most evenings rehearsing and gigging with the many ensembles he's part of, spanning jazz, pop, rock and ska. He also sings backing vocals in several of these groups and is the Musical Director or Band Leader with several bands, both in and out of schools.
'I feel it is important to maintain a good relationship at all times with students and, where applicable, parents. I encourage parents to be in frequent contact about their child's progress. I try to encourage my pupils to take graded examinations as I believe they are good targets to aim for and they bring focus into learning but I don't consider them a necessity.  Most of all I believe music should be fun and each person must go down their own musical path. To this end I aim to guide and encourage but always keep your goals in mind.'