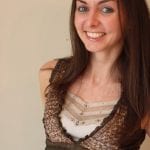 This month SCMT are featuring our new tutors in place of our normal 'Composer/Musician of the Month' feature. First up we have the lovely Louisa (pictured). Louisa has come on board with us as a piano teacher. Below you can find her teaching profile, here you can find out about her teaching styles, influences, experiences and much more. If you or someone you know would like to book in your free intro lesson with Louisa please contact Susanna direct on 01273 504505/07720 771053 or email [email protected]
Profile:
Louisa's pupils always praise her for her relaxed and friendly approach to teaching, putting the nervous at ease and ensuring everyone walks out of her class with a smile on their face and a sense of achievement. Louisa enjoys teaching all styles of music, from Classical to Blues, and has performed in Jazz, Gypsy, Country, Swing, Latin and Klezmer bands. Her 20 years experience in teaching adults and children have taught her that everyone learns in different ways, enjoys playing different music, and has different personal goals when learning an instrument, so Louisa tailors each individual pupil's course of study to match their personality.
Alongside learning your instrument Louisa's classes also include learning a variety of techniques and 'short-cuts' that will make it easy to start playing the music you want to learn straight away. If desired, lessons can include learning improvisation skills, practising composition, and improving note-reading fluency, as well as learning band skills so you can feel confident playing with other people. She is happy preparing students for exams, or simply playing just for fun.