Featured new tutor – Andrew (violin teacher)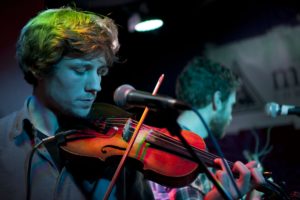 It's a new violin teacher today, the brilliant Andrew! The violin is a great instrument for youngsters wanting to start music lessons, as they come in smaller sizes for smaller hands. Below you can find Andrew's teaching profile, here you can find out about his teaching styles, influences, experiences and much more. Andrew is ready and waiting to take on new students, so please contact Susanna direct on 01273 504505/07720 771053 or email [email protected] to book your free into lesson.
Profile:
Andrew is a Grade 8 classically trained violinist and has recently graduated with a First-Class BAHons in Music and a Foundation Degree in Professional Musicianship from the University of Sussex. Andrew is very experienced in performing on the violin, mandolin, keyboards, guitar and voice for bands in the UK & Europe as well as in session work. These experiences have broadened his musical approach and enable him to teach in both classical and modern traditions. He also has Grade 6 music theory and has composed for film and adverts. Accommodating to the needs of both parent and pupil, Andrew aims to provide a comfortable and enjoyable atmosphere for learning.