Watch our new concert videos on You Tube!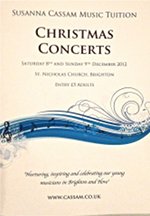 I think it's safe to say this year's Christmas Concert was a great success. We had some fantastic performances and we have posted some of them on our youtube channel http://www.youtube.com/user/cassammusictuition please take some time to go and watch them they are all incredibly inspiring and give you a great insight as to what the SCMT concerts are all about!
We will be posting them on our facebook page www.facebook.com/susannacassammusictuition and our twitter page @susannaCassam too!