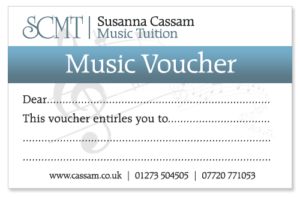 Here at SCMT we have the perfect Christmas present for anyone interested in learning a musical instrument…. VOUCHERS!!
Our music lesson vouchers make the ideal present for a friend or relative keen to explore their musical abilities.  You can pay for as many lessons as you like, without having to choose a teacher in advance.  That way, the recipient need only follow the instructions on the voucher, asking them to call Susanna personally to discuss their needs and which teacher is the best option for them.  We will then put them straight in touch with the teacher that they choose.  Vouchers are sent out first class on the same day funds are received, printed out in the name of the recipient.  They can be sent either to your home address or that of your friend/family member.  They are valid for 2 years from their purchase date!
If you would like to purchase vouchers from us please contact Susanna direct on 07720 770153 or email [email protected].