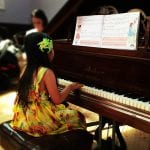 It's almost that time again… and doesn't time fly!  Our 10 year Anniversary Christmas Concerts are fast approaching, yet another reason to celebrate.  Phew!  Here are the details:
All instruments, solos, duets and ensembles are very welcome.  The concerts are for adults and children, are free choice… and welcome all ages and abilities.
Date and times:  Sunday 22nd November, 2pm til 9pm.   5 Concerts (4 for the children… followed by 1 for the adults, advanced pupils and small groups).
Venue:  St Nicholas Chruch, Dyke Road, Brighton.  BN1 3LJ
Guest price:   £5 for adults (payable on the door, cash only, free to all children and performers).
Entry deadline:   Friday 30th October
1 or 2 pieces per performer.  Maximum total performance time of 3 minutes (children's concerts) and 6 minutes (adults/advanced/groups concert).
Performance lists, inclusive of your particular concert time, will be emailed to you once the deadline has passed and performances have been collated.  Full programmes will also be supplied on the door, free of charge.   Drinks and nibbles will be served throughout as usual.
You can either submit your entry to Susanna in person at this email address, or simply let your tutor know. We can't wait to see you there!  You can even play if you DON'T have lessons with SCMT (as a one off )… because we know that once you have you'll be hooked! 🙂
At SCMT, music lives to be let out…