A huge thank you to everyone who sent in entries to our photo and video competition. We had some really great entries, you can see the winners below:
Photo competition: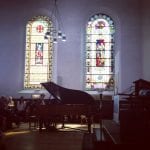 2nd                    Athina Tameresi, Jazz piano
Video competition (All entries can be found on our YouTube channel, https://www.youtube.com/user/cassammusic ):
1st                     Andrew Macintosh, Caitlin.
2nd                   Marns Amurao, Matt.
3rd                   Wendy Armstrong, Juliette.