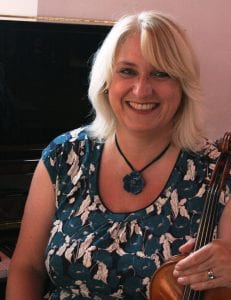 Today's featured new tutor is multi instrumental teacher, Jinny. Jinny teaches violin and piano lessons. Below you can find Jinny's teaching profile, here you can find out about her teaching styles, influences, experiences and much more. Jinny is ready and waiting to take on new students, so please contact Susanna direct on 01273 504505/07720 771053 or email [email protected] to book your free into lesson.
Profile:
Jinny is a piano and violin teacher with over twenty five years' experience working alongside children and young people. Following completion of a foundation course at Leeds College of Music she graduated from Bretton Hall College, University of Leeds, with a B.Ed. (Hons) in education and music (1989).  Since then she has taught in many schools, both as an instrumental teacher working for two Music Services and a Primary and Middle School music teacher. She has also worked as a class teacher in mainstream and SEN settings. With 100% pass rate for students wishing to take ABRSM and Trinity Guildhall examinations, with many achieving merits and distinctions, Jinny has also successfully prepared students for the performance elements of their GCSE Music exams.
She strongly believes that everyone should be given the opportunity to participate in music activities and has an inclusive approach, incorporating different teaching strategies and genres into lessons enabling students to draw on their strengths and different learning styles. She has experience teaching children with Special Educational Needs, including those on the autistic spectrum and uses Makaton signing where appropriate.
Performing plays a large part in Jinny's life. She is a founder member of Sussex Symphony Orchestra (1st violin), where she has performed for the BBC, and with artists such as Katherine Jenkins, Aled Jones and Blake. She also sings in the Brighton Festival Chorus and plays piano and organ in church services. In addition to a degree where violin and piano were joint first studies she holds Grade 8s in viola and music theory.
Having just graduated with an MA in Music Education from the IOE, University of London (the world's leading centre for education and applied social science, 2014), Jinny is thrilled to have studied alongside those at the forefront of educational research and to have had the opportunity to enhance her knowledge and teaching skills in light of current pedagogical practices.