A HUGE thank you Ackerman Music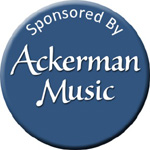 From all of us here at SCMT we would like to say a HUGE thank you to Ackerman Music for their sponsorship of our 10 Year Anniversary Concerts. We are very grateful for their continued support over the years.
To find out more about Ackerman Music take a look at their website: https://www.ackermanmusic.co.uk. You can find out more about their brilliant sheet music collection and instrument hire/purchase.