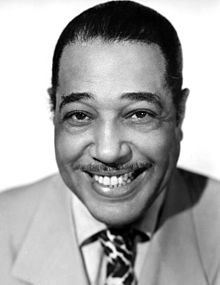 Duke Ellington is this month's featured composer/musician so we thought we'd give you a few facts about this brilliant musician..
Name: Edward Kennedy Ellington
Stage name: Duke Ellington
Born: April 29, 1899
Died: May 24, 1974
Occupation: Jazz musician, composer and bandleader
Early career: Ellington started his career in the 1920s when he became pianist and often composer and then later band leader of a band at the famous Cotton Club in New york. The band then became known as the Cotton Club Orchestra and toured extensively with Ellington at the helm. They played Jazz but a slightly raw sounding jazz compared to what the other jazz orchestras at the time were playing. It became known as Jungle music, a raw, rasping type of Jazz music.
Watch this space for more on Duke Ellington….